The Des Plaines River Trail Challenge is your route to witness and journey through the season changes. See Lake County in all of its glory and splendor as you travel through its natural habitats.
Lake County has as much as 30,000 acres of forest preserves with vibrant colors and sweet fragant blooms. That said, here is the perfect opportunity to get that picturesque, nature shot you've wanted to hang up in your family room.
The Lake County Forest Preserve kicks off
its Des Plaines River Trail Challenge
that started August 1 and runs through November 30. The trail has just been completed as it linked the broken path is now a continuous 31.4 miles of uninterrupted trail. The construction – which was a 4.4 acre stretch in Lincolnshire, was completed and opened for the public in October 2015.
The trail in it's entirety has a north-southbound route all throughout Lake County – starting from Russell Road just south of the Wisconsin border to Lake Cook Road.
Lake County Forest Preserves have started this challenge for anyone brave enough to try and take the entire trip. The Challenge guidelines are as follows:
Travel the trail in its entirety until November 30
Complete your journey with a walk/run, bike or boat of your choice. They even give you the option of mixing your mode of travel if you please
You may travel the entire 31.4 miles in one trip or go back as many times as it takes you to finish
Download and print the challenge log to record your travel dates and lengths.
Continue here for a direct link to the challenge log.

So by clicking this link here, you can download your own version of the map so you can get a full-trail view and plan out your course. This interactive map obtains the ability to find trail access  points, underpass closings, parking lots, informational kiosks, toilets, drinking fountains or you can start early in the morning so you can make it in  time for lunch at Independence Grove's Café. The map also enables you to have a view of the topography.
Continue here for more information about the prizes you can win by completing this. You could receive awards for your efforts!
Also don't forget to make the selfie stops. That's right, there are cutouts placed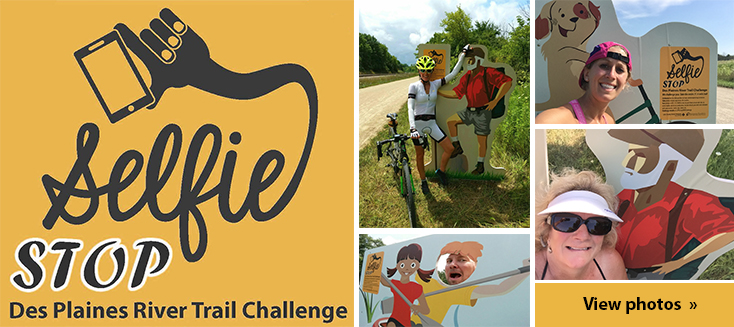 around the trail and greenway in some of the most beautiful locations in Lake County. By doing this you not only prove that you were there, it helps create buzz and inspires others to appreciate the trail and Lake County's natural wonders.
To receive prizes, the trail journey is on an honor system. So you must show off your selfies. Everyone who competes receives a commemorative 'I took the challenge,' sling bag.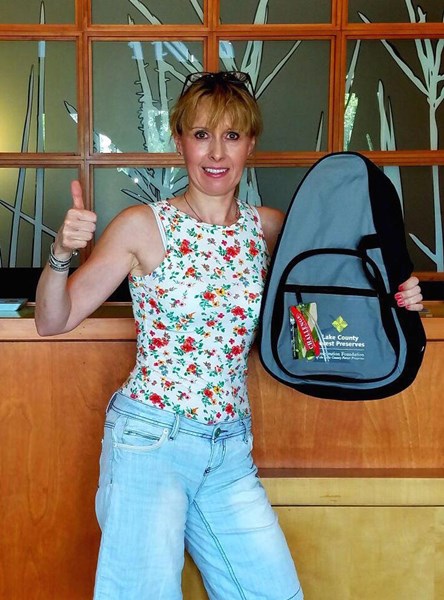 Also everyone who competes is automatically entered to win raffle prizes, i.e., biking gear, hiking accessories, gift cards and more from local establishments like B+G Cyclery in Round Lake, Chris Cycle, INC., in Libertyville, Deerfield Cyclery in Deerfield, George Garner Cyclery in Libertyville and Lake Zurich, M&M Cyclery in Mundelein and Northerly Outfitters in Grayslake.
TO learn more about the Des Plaines River Trail and Greenway as well as Lake County Forest Preserves, continue here.
Lets Go Lake County to the Des Plaines River Trail Challenge.