I don't know about you, but I think April 5 is my favorite day of the year. No it's not because tax day is rapidly approaching and I haven't turned mine in yet and it's not just because the MLB opened their season.
Today is National Deep Dish Pizza Day in Lake County while Thursday is National Beer Day!
While carbs are probably the last thing I need, both of these things are necessary for my belly. (On daily if I could).
So I know you might be thinking – what should I have for late lunch or dinner, well we got everything figured out as this edition of Tasty Tuesday: National Deep Dish Pizza Day in Lake County. Also we have the listings for National Beer Day for you on Thursday.
Continue here for all of the dining options in Lake County and click here if your looking for a cold one.
Uno's Chicago Bar and Grill 
Welcome to the restaurant that developed deep dish pizza! Uno's continues to be about amazing flavor and wonderful menus that have the right balance between indulgent treats and delicious and nutritious choices. In this way our guests can enjoy Uno® in a way that fits their mood and lifestyle and that of their families when and where it makes sense. It's all about them and we get that.
6593 Grand Ave., Gurnee
Giordano's Italian Restaurant and Pizzeria
Pioneer of the famous stuffed and equally renowned thin-crust pizza. Their menu also has great pastas, sandwiches, soups, salads and desserts. Over 40 Chicagoland locations open for lunch or dinner including a full-service bar. Dine-in, carry out, delivery and catering available.
7105 Grand Ave., Gurnee & 270 N. McHenry Rd., Buffalo Grove
DiPiero's has been providing fantastic food and a great atmosphere in downtown Lake Zurich for over three decades. The menu represents dishes from different regions of Italy and the classic Chicago originals people have come to love. Catering and delivery available.
17 E. Main St., Lake Zurich
Sports bar and restaurant offering a relaxed environment serving lunch and dinner including their famous pizza, sandwiches, broasted chicken and more.
161 Center St., Grayslake & 604 N. Lake St., Mundelein
Gino's East Pizzeria 
Famous deep-dish pizza made by hand and feature an unique look. Each legendary pizza is created with the secret-recipe golden crust, fresh vine-ripened tomatoes, and is loaded with a choice of fresh ingredients. Salads, sandwiches, and more.
820 S. Milwaukee Ave., Libertyville
R & V Italian Market and Deli
Italian Market & Deli serving authentic homemade Italian recipes daily. The full deli offers sandwiches, salads, soups, pizza, fresh bread, and an Italian bakery. Also enjoy shopping the specialty grocery store's olive oils, pesto, gift baskets and many Italian favorites.
13801 Laurel Dr., Lake Forest.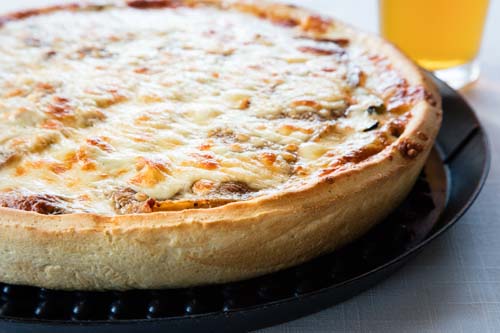 Salutos Pizza & Pasta
Salutos, a favorite Italian restaurant in Gurnee draws residents from various local communities. The restaurant features a two-story bar, a large dining room with booths and a private banquet meeting room. Famous for their homemade pasta and the "secret recipe" salad dressing, Salutos has been a hit in northern Lake County since 1990. This full service restaurant's claim to fame is the pizza, pasta and the courteous service. From their delectable appetizers like Artichoke Heart Foudue, Toasted Ravioli and so much more; to their homemade sauces and pastas; to their pizza, either thin, pan or stuffed, everyone will find something to enjoy on their menu. Very family oriented, Salutos also offers a children's menu for the smaller guests.
7680 Grand Ave
The Silo has bee a landmark on the North Shore for over 32 years, serving famous Pan Pizza. Award winning chili, appetizers, salads, sandwiches, hamburgers, dinner entrees, a gluten free pizza and a full service bar compliment our menu. The Silo seats customers on two different levels! We also provide a complete carryout menu. The Silo is an independently owned and operated family restaurant. Plan your next party or catering event at The Silo.
625 Rockland Rd., Lake Bluff
National Beer Day in Lake County
For you suds drinkers and craft beer aficionados here is a list of places you can wet
your whistle on Thursday (or any day of the week) for National Beer Day in Lake County. Some of these places even have pizza if deep dish doesn't tickle your fancy.
Onion Pub
Half Day Brewing
Light the Lamp
Tighthead